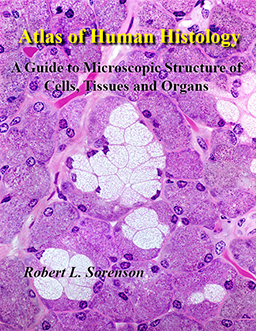 Atlas of Human Histology
A Guide to Microscopic Structure of Cells, Tissues and Organs
367 pages.
SKU: 2810000010513B
Robert L. Sorenson
T. Clark Brelje
3rd Edition
Copyright © 2004, 2008, 2014. All rights reserved.
$75.00 from the University of Minnesota Bookstore.

This atlas provides medical, dental and biology students with an outstanding collection of histology images for all of the major tissues and organs. Microscope slides are shown as a series of high-resolution photographs of the same area at successively increasing magnifications to provide a sense of scale and proportion. This is exactly the way students examine specimens through an actual microscope. Each image is labeled with details a student should be able to recognize. Each chapter is prefaced with introductory text.
This atlas provides students with a print version of the core slides from this web site.
The following sample chapters are available for download: